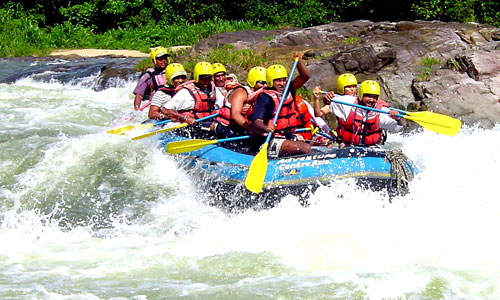 Kitulgala, the main white water rafting location in Sri Lanka!

If you are looking at an adventure and leisure base close to Colombo, Kithulgala is THE PLACE.

Sri Lankaís spring nourished rock rivers flow through wild tropical jungles are the ideal setting for white water rafting. Inside the jungles of Kitulgala there are plenty of camping opportunities which can be combined with White Water Rafting, Bird Watching, Jungle Walks, River bathing and many adventure activities. .

Rafting location Kitulgala had about of renown, when it was chosen as a prime location in the filming of David Lean's 1957 award winning film 'Bridge on the River Kwai.'.

The Kelani River flows through the Kitulgala's rock scattered sections and the fast-moving water provide sufficient pleasure for the voyage sport of white water rafting. .

The finest time to enjoy White Water Rafting at Kitulgala is the period between May to December. During periods of heavy rain, the river could turn out to be angry and White Water Rafting is definitely not safe. The adventure operators on site would instruct all water sports enthusiasts on the matter. However water levels could drop surprisingly fast, turning the river to its regular state during the rainy season as well. .

For those who would like to enjoy the river and its wonderful scenery without the thrills and spills of large rapids, could raft through the flatter section of the lower gorge, suitable for children over six and family groups. .

This activity is for anyone above the age of 10 years with safety gear, modern rafts, and a comprehensive safety briefing will be given by our white water rafting instructors beforehand. The distance covered is around 5 KMs. The river and its surrounding will make you feel delighted, with a memorable Experience during your White Water Rafting Tour in Kitulagala. .